Maybe it is the the sound of the "Hot Chocolate" song repeated over and over for my oldest daughter's tap dance, the pumpkin advertisements everywhere, or maybe even the overwhelming scent of fall in the Fresh Market store yesterday, but I must say I am excited to start working on all of these mini sessions for the Fall and Winter season. I have quite a few mini sessions to announce so bear with me. I wanted to announce them all in one swoop so that everyone can plan out their pictures. I will put them in order of the dates on the calendar in this announcement.
I am also booking all of my full sessions through the end of the year. Space is very limited for full sessions so if you want on the schedule don't hesitate to contact me. I have made quite a few mini sessions so that I can accommodate more families during the busy season. The remaining dates are set and once they are full I will not take any additional clients for the year so that I can still have enough time for my mommy, wife, and dance mom roles.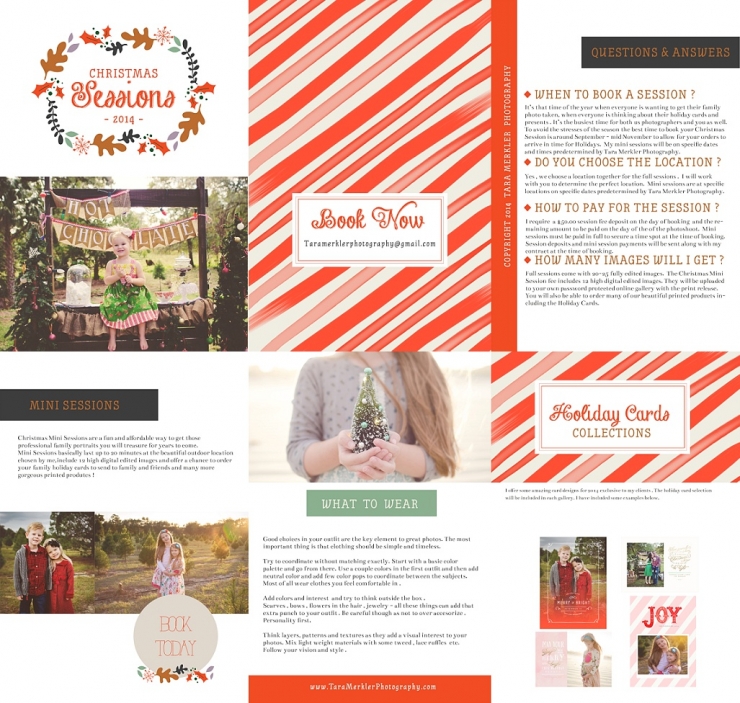 P I N this to pinterest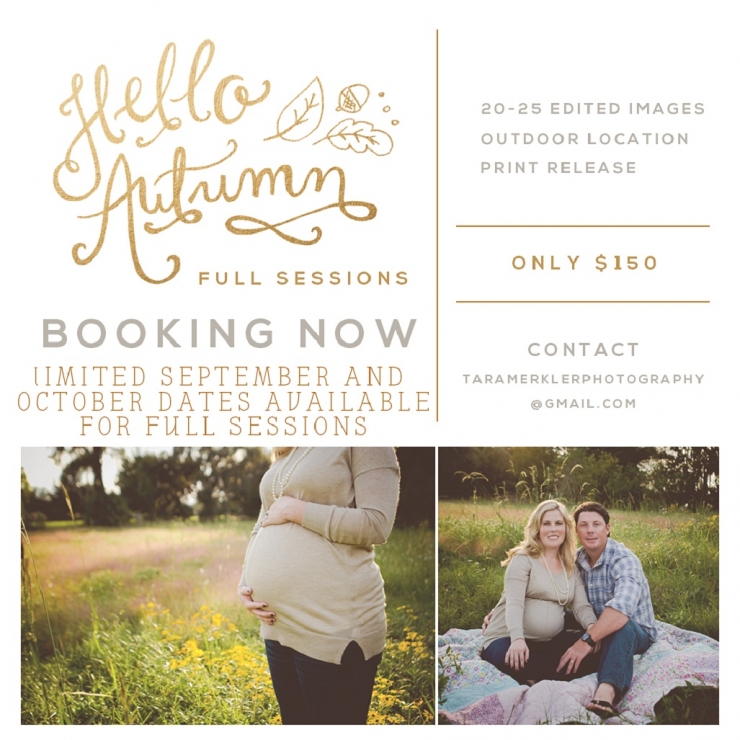 P I N this to pinterest



P I N this to pinterest



P I N this to pinterest


Now here is all of the specifics to book:
All mini sessions are in the afternoons with the exception of Hot Chocolate mini's that will be in the morning and afternoon.
All sessions will be booked in the order of contact to my through my email at taramerklerphotography@gmail.com. I will do my best to answer all emails within 24 hours as long as my girls cooperate.
I will hold a session time for 24 hours after the contract and payment has been sent to the client. If the contract has not been signed and paid in full through Paypal within the 24 hours the time spot will go to the next in line.
All mini sessions must be paid in full to reserve the spot. Sorry, but I will not budge on this one folks.
I can not wait to see everyone over the next few months for your sessions! I absolutely love seeing all of my clients and little ones for the sessions. It is so much fun for me to see the littles grow in front of my camera and I feel so blessed to have this opportunity with your families!